The vintage salumeria case showcases our DOP Salumi & Formaggi with traditional wine bar Spuntini.
The salumeria lends to Quartino's rustic atmosphere and authentic approach to Italian cuisine. Each Quartino Ristorante showcase our DOP Salumi & Formaggi with traditional wine bar Spuntini in a vintage salumeria case. 
The original salumeria deli case, located in the dining room at our Chicago location, is from the 1920s. It was found in a warehouse in Scranton, PA. While touring the facility in search of items for Quartino, the team noticed a bit of porcelain and chrome sticking out from under a pile of miscellaneous items. This lucky find took 30 minutes to dig out. Wood clad with baked enamel, the unit was gutted and brought up to code for our use. The old service sticker highlights the age of the refrigerated case and the listed phone number only has 5 digits: 2-2914.
In our Texas location, we feature a vintage 1950's salumeria case found in a New York City Italian deli. 
Join our
newsletter.
Receive updates, Quartino event news, and more.
Quartino Chicago is a recipient of the coveted Ospitalita Italiana, which is awarded by the Italian government for restaurants that uphold the traditions of Italian culture.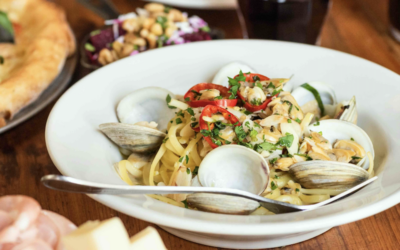 Housemade pasta is shaped and cut by hand in our restaurant's Pasta and Patisserie dolce kitchen.
Dough made daily, stretched by hand, and fired in our stone hearth oven, in our display pizza kitchen.